Grants
One of the most important programs of the Charles County Arts Alliance (CCAA) is our Arts Grants Program. It has been the focal point of our organization ever since we were founded in 1987. Arts Grants have been awarded annually since then and to date our CCAA grant contributions have totaled over $750,000 to deserving nonprofit organizations and schools in Charles County to enhance their planned programs, project, events and activities. In FY 2018, the CCAA awarded $44,000 in grants to 13 nonprofit organizations and 6 schools. Two types of Arts Grants are awarded each year:
Community Arts Development Grants (CAD) – Awarded to nonprofit organizations
Arts In Education Grants (AIE) – Awarded to schools
Our Grant program is a very competitive process, and decisions are made based upon the submission of a formal grant application, rating and ranking by the CCAA Grant Committee, and final review and approval by the CCAA Board of Directors. In all applications, the applicant organization must provide a cash match for any grant funds being requested, on a 1:1, 2:1, or 3:1 basis, depending upon the grant amount being requested. Grants are reviewed on the basis of three main criteria:
Artistic merit
Fiscal accountability
Service to the community
The CCAA Grant Committee is chaired by a member of the CCAA Board of Directors, and includes additional Board members and members of the local community. Grant panel members must file a written disclosure form listing all their arts-related affiliations in advance to avoid any conflict of interest. The annual grant round for CCAA Arts Grants follows the typical schedule below:
August 15, 2017 – Grant applications posted to CCAA website.
September 13, 2017, 7:00 pm – Mandatory grant training workshop for all potential CAD grant applicants, United Way House, 10250 La Plata Road, La Plata, MD 20646.
October 11, 2017, 7:00 pm – Mandatory grant training for all AIE grant applicants, United Way House, 10250 La Plata Road, La Plata, MD 20646.
October 13, 2017 – All CAD grant applications received (not postmarked) in the CCAA Office by noon.
October 27, 2017 – All AIE grant applications due in the CCAA office by noon.
November 4, 2017 – CCAA Grant Committee meets and reviews all grant applications; makes final recommendations to CCAA Board.
November 6, 2017 – CCAA Board reviews/approves recommendations of Grant Committee; grant applicants notified of results.
November 7, 2017  – Notification letters and Grant Agreements sent out to all AIE and CAD grant recipients.
November 15, 2017  – Deadline for all grant recipients to return signed Grant Agreements.
November 18, 2017 – CCAA Grantees awarded grant checks at the CCAA Annual Grantee and Membership Gala.
May 31, 2018 –  AIE Grant Final Reports due. Click HERE to download an AIE Final Report form.
July 20, 2018 – Final Grant Reports due from all CCAA grantees (in some cases earlier). Click HERE to download a CAD Grant Final Report form.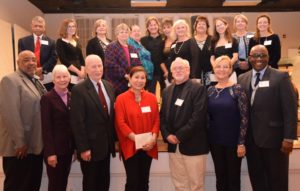 Congratulations to the FY 2018 CCAA Grant Recipients!
Arts in Education Grantees
Archbishop Neale School
Grace Christian Academy
Henry E. Lackey High School
J.C. Parks Elementary School
La Plata High School
St. Charles Children's Learning Center
Community Arts Development Grantees
Charles County Government – Department of Community
Services / Aging & Senior Programs
Charles County Freedom Landing
Charles County Public Library
Chesapeake Choral Arts Society
College of Southern Maryland
College of Southern Maryland Foundation
Korean American Cultural Arts Foundation
Life Journeys Writers Guild
Mattawoman Creek Art Center
Music Teachers Association of Charles County
Nanjemoy Community Center
Port Tobacco Players
Steam Onward