ArtsFest
ArtsFest 2019
Saturday, June 8, 11:00 am to 5:00 pm
La Plata Town Hall
305 Queen Anne Street
La Plata, MD 20646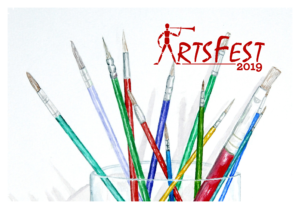 The 27th annual ArtsFest will be held on Saturday, June 8, 2019, from 11:00 am – 5:00 pm, on the beautiful grounds of the La Plata Town Hall, in La Plata, Maryland. ArtsFest is the largest arts festival in Charles County, and one of the largest in Southern Maryland. This will be our eighth year to present the festival in partnership with the Town of La Plata.
Visual and literary artists of all media are invited to display and sell their works. In addition, nonprofit arts organizations are invited as exhibitors to display information and encourage participation in their performing, visual and literary arts activities. Also invited as nonprofit exhibitors are cultural, historical, heritage and environmental organizations. Local commercial organizations are also invited to distribute information on their products and services.  Live entertainment on two stages takes place beginning at 11:00 am on the East side, and a variety of great food will be available for purchase throughout the day.
Click HERE to download a Vendor/Exhibitor Form
Click HERE to download a Food Vendor Form
Click HERE to download a Commercial Displayers Form
For more information, contact the CCAA Office at 301-392-5900, or info@charlescountyarts.org.
There is something for the whole family!  So, please plan to come to ArtsFest 2019 on June 8, to kick off your next summer fun!
Funding for ArtsFest is provided, in part, by the County Commissioners of Charles County, Maryland.
 For more information, call the CCAA office at 301-392-5900, or email at info@charlescountyarts.org.