The Charles County Arts Alliance and the Community Bank of the Chesapeake, Waldorf Branch, located at 3035 Leonardtown Road, Waldorf, have partnered to exhibit art by members of the Arts Alliance.  All the works are available for purchase; the Bank will have a copy of the price list.
Gallery hours at the Bank are: 9:00 am – 4:00 pm, Monday through Friday.
Community Bank of the Chesapeake Waldorf Branch
"Call for Artists"
Theme is "Artists Choice"
Exhibit Dates: December 28, 2018 – April 19, 2019
Deadline to Submit Extended to December 15, 2018
Community Bank of the Chesapeake, in partnership with the Charles County Arts Alliance, is now accepting submissions for their next multi-media art show to be held at the Main Waldorf Branch, 3035 Leonardtown Road, Waldorf, MD.
Current members of the Charles County Arts Alliance are invited to submit a maximum of two works of art on any subject for consideration (there is no submission fee). Non-members are encouraged to join and be eligible to submit their art.  Click HERE to download a Membership Form.
Artwork entries must be submitted electronically as digital images (jpegs) attached to an email sent to waldorfwestgallery@gmail.com.  Please reference "Community Bank Gallery" in the subject line.
The email must include:
Artist's name
Artist's mailing address
Artist's email address
Artist's phone number
Artist's biography (half-page max, in MS-Word)
Artist's headshot (jpeg)
Title of artwork
Medium/materials used
Size/dimensions
Year created
Price, if applicable
The artists will be notified by email by December 17.  If the artist has not received a notification by December 19, the artist should contact the CCAA office at 301-392-5900, to confirm receipt of the original email submission.
All accepted art must be wired, ready to hang and delivered to the Bank on Friday, December 28, 2018, between 9:00 am to noon.
Example of wired art: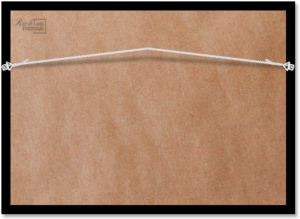 For more information on the gallery, please contact Gale Kladitis at gkladitis@comcast.net.
Community Bank of the Chesapeake Gallery
August 24 – December 28, 2018
Past Shows